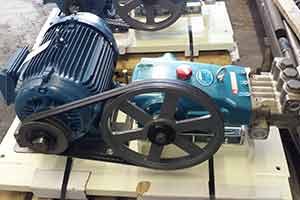 Detroit Pump is a leading distributor of pumps and fluid handling equipment in the Michigan and Great Lakes Region. We represent many of the leading manufacturers, including Gorman-Rupp, LMI (Master Distributor), and Grundfos Pumps. Having been established as a Michigan corporation in 1926, Detroit Pump has a long history of working with our customers and manufacturers to solve some of the toughest pump application solutions.
Offering a full line of pumps and fluid handling equipment, replacement parts, and fabrication, Detroit Pump is ready to assist our customers. Our engineering support, inside and outside sales reps, customer service and our repair technicians are ready and willing to assist our customer's needs with solutions.
Our company develops cooperative relationships with existing and new customers, suppliers and manufacturers in an effort to clearly identify and effectively address our customer's needs so that Detroit Pump & Mfg. Co. can be what the customer needs them to be.
We believe in doing business with integrity and professionalism.
Our Mission: To be what our customer needs us to be.
Solving Pump Problems Since 1926