Detroit Pump's factory trained service personnel provide expert Industrial Pump Repair and will do more than just replace worn parts in your fluid handling equipment. We conduct a failure analysis on every pump we inspect, allowing us to advise you, the customer, of our findings. This can result in better operation of the customer's equipment. Our goal is to help you operate your equipment at the best efficiency and lowest costs.
Factory trained repair technician
Detailed failure analysis
Obsolete pump repair
Parts fabrication
Machining capabilities
Impeller trim & balancing
Base plate fabrication
Large inventory of repair parts
Paint Shop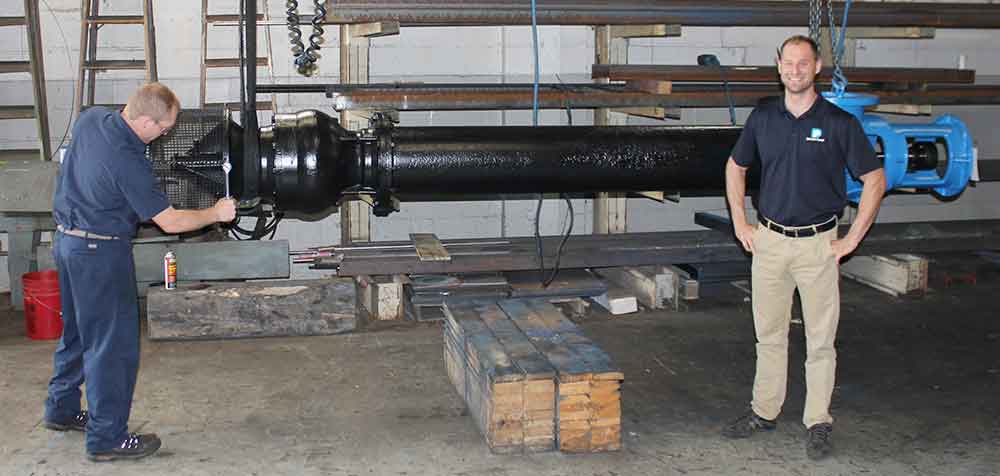 This is a Worthington Single Stage Vertical Turbine pump that pumps cooling water for air conditioning units for a large company. We received the pump from the customer directly to our Ferndale repair facility. The pump that was sent in for inspection was in very bad shape. Our technicians fully disassembled the pump, cleaned all the parts, and sandblasted all the components in preparation for visual inspections. We did a full inspection and determine that most of the internal rotating parts of the pump were in unusable shape and need replacing. The technicians reviewed /evaluated the parts to make sure we were as cost effective as possible for our customer.
Once all the parts and pricing was prepared, a quote with a failure analysis was sent to the customer for review and approval. Detroit Pump manufactured as many components in house as possible, as opposed to sending them out, to manage costs and lead time. Once we had the customer's approval, larger parts were sent out for cleaning and sandblasting, new parts were machined for the rotating elements and the shaft. Technicians then assembled the rotating elements, had the unit dynamically balanced by our partner. The pump was then completely reassembled, sent to paint for an immersion epoxy to the leaded end components and verification of the quality checks before the pump is shipped back to our customer.
Detroit Pump Contact Form
Inquiries are answered within one business day.